Ceiling, Roof & Wall Protection Netting
TSS Ceiling Net system is designed to protect your ceiling and lights from rouge equipment during facility use & it allows access to ceiling lights when maintenance is necessary. Our net is Knotless Polypropylene (PP) nets with border rope finish in Mesh/Thick: M100/4mm M100x100, 4mm & M45x45, 3mm.
Description
The netting we uses in Schools, fields, gyms depends on the size of projectiles to be stopped and can include:
1, 100/120mm mesh to stop footballs, basketball or similar kind
2, 45/30mm mesh to stop cricket balls, tennis or similar kind
3, 20mm mesh to stop golf balls or similar kind
Ceiling, roof, and wall protection netting is typically made from high-strength polypropylene (PP) & UV treated. These materials have excellent durability and load-bearing capacity.
Fixing Accessories :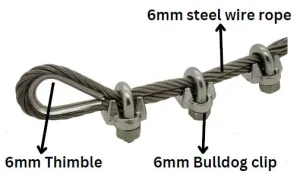 Supply & Installation of Ceiling nets contact us.